Beth has a degree in print communications, writing professionally since 2005. Today she is self-employed as a freelance writer and editor.
As the mountain biking editor for About.com, Beth manages all aspects of the website. This includes enlightening others about
fat biking
,
bikepacking
and
29ers
, as well as publishing content and using SEO techniques to increase site traffic volume behind the scenes. She attends industry trade shows several times per year to report on mountain biking trends.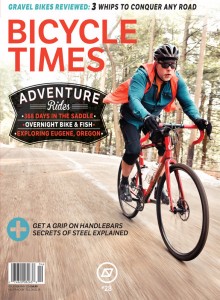 Before
Dirt Rag
and
Bicycle Times
get into your hands, Beth checks for and corrects any errors in grammar, spelling, usage and style. She works closely with the magazines' editors to ensure copy is flawless. In addition to copy editing, Beth writes an adventure/globe-trotting column for 
Bicycle Times
.
Prior to making her way to the mountains, Beth was the managing editor and web editor at
ADVANCE Healthcare Network
, working at the publication's headquarters in the Philadelphia metro area. These days, she frequently accepts writing assignments for healthcare professionals on a freelance basis.