"WELCOME TO MACEDONIA!" booms a young man with outstretched arms. He's flanked by his friends and they snicker when they hear his loud, playful introduction and see our comical-looking touring bikes roll across the border from Kosovo.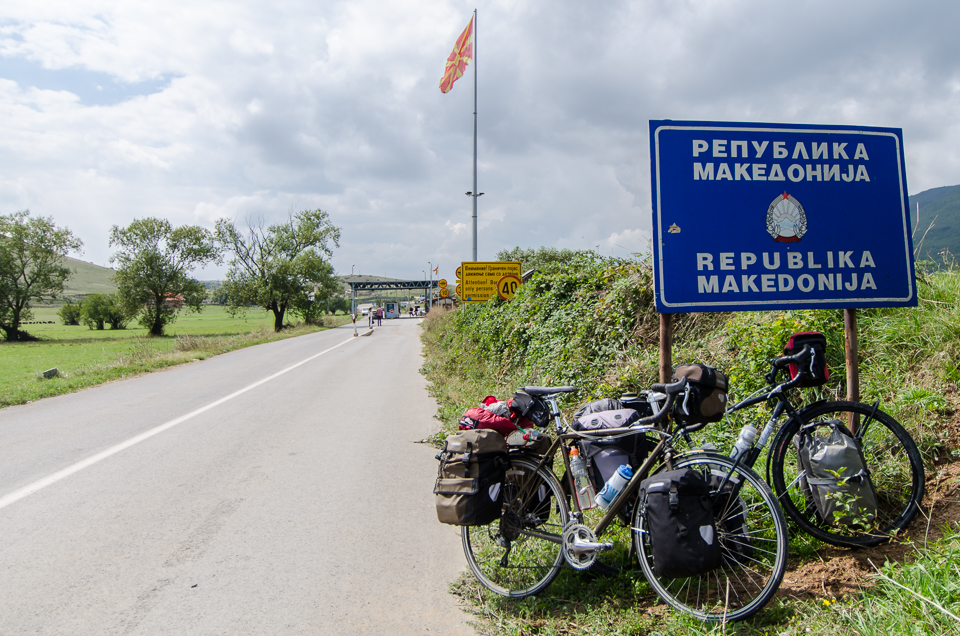 We wave and pedal further into the slightly-larger-than-Vermont country, stopping a bit down the road for pizza and a Coke. When we pay, they accept our Euros, but hand us change in Macedonian denars. Whoops. The route we take through the country is much more populated than our map shows. We pass town after town. People stare and wave. Trash fills the roadside and small streams. I watch a young boy unwrap a snack and throw the wrapper in the gutter without hesitation.
We pedal further and the pungent smell of burning garbage fills our lungs. I circle back to take a picture of an ornate mosque, and in doing so bring a game of hard-court soccer to a halt.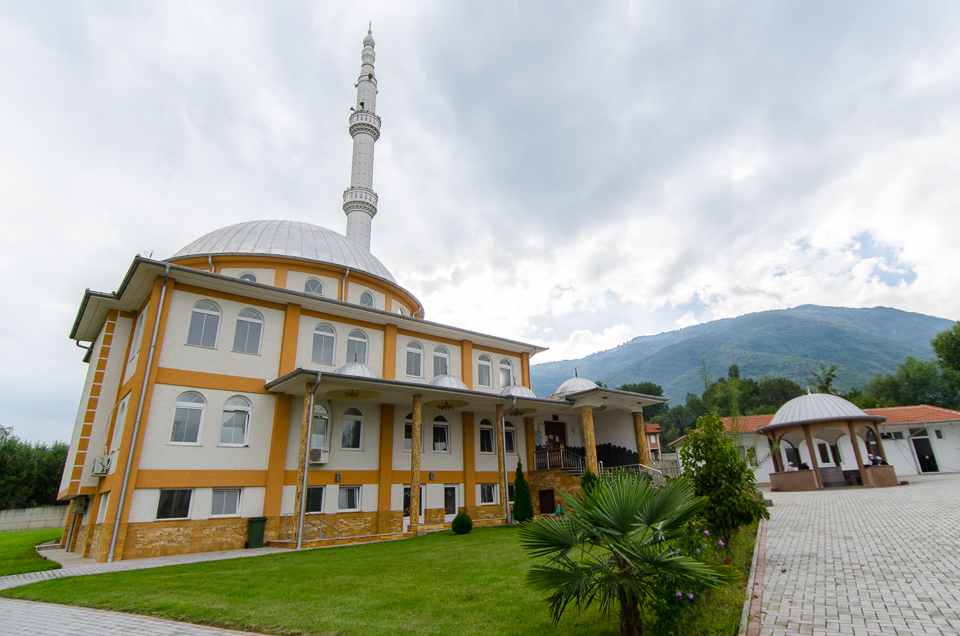 "Where are you from?" "How old are you?" "What is your name?" I hear as I click the shutter. I turn to face the pee-wee players and answer their questions. "Can I take your picture?" I ask. They eagerly congregate at the edge of the fence.
"Do you have a husband?" asks the kid next to the one giving the finger. I laugh out loud and ride to meet back up with Justin. We can't escape civilization long enough to camp, and so after having ridden over 100 kilometers we end up renting a room in a big town at the end of the day. The next day, we climb into Marovo National Park and cross paths with two Italian cyclists who can't find a road on their map.
Further into the park we meet two ladies from England on a two-week cycling holiday. We chat over lunch at a café and make plans to spend the night together at a hillside monastery.
Only when we reach the building, we're told it's full. So we keep riding, sticking together and pedaling fast as daylight begins to wane. Just before we reach the next town, we pass a shepherd herding a massive flock of sheep.
Threading The Needle
from
Beth Puliti
on
Vimeo
. Macedonia's national cross country mountain bike champion is on his way back to town after a mountain bike ride, and catches up to us as we near the top of the hill. We follow him to "the cheapest place to sleep in town," and end up at a gas station. There's communal living in the building, and we spend the night with our new friends from England—cooking over a camp stove, laughing at our touring misfortunes and planning our route. At the end of the evening, we all retire into a single room with four beds. We part ways with Venetia and Lulu the next morning over pastries and vow to stay in touch. It's a scenic, quiet ride the rest of the day. It's next to impossible to find food without meat, and we spend the last of our denars at a bakery before crossing the border into southern Albania.