Our time in Laos is a blur of beautiful handwoven homes lining the red-dirt roads of rural villages; shouts of
Sabaidi
 (Hello!) from ecstatic faces;
Khao Piak Sen
, a soup seemingly eaten for every meal, consisting of homemade rice noodles cooked in broth and topped with crispy fried onions; stifling heat that sucked the energy from our bodies and left us defeated in shaded ditches; and A LOT of mountainous terrain.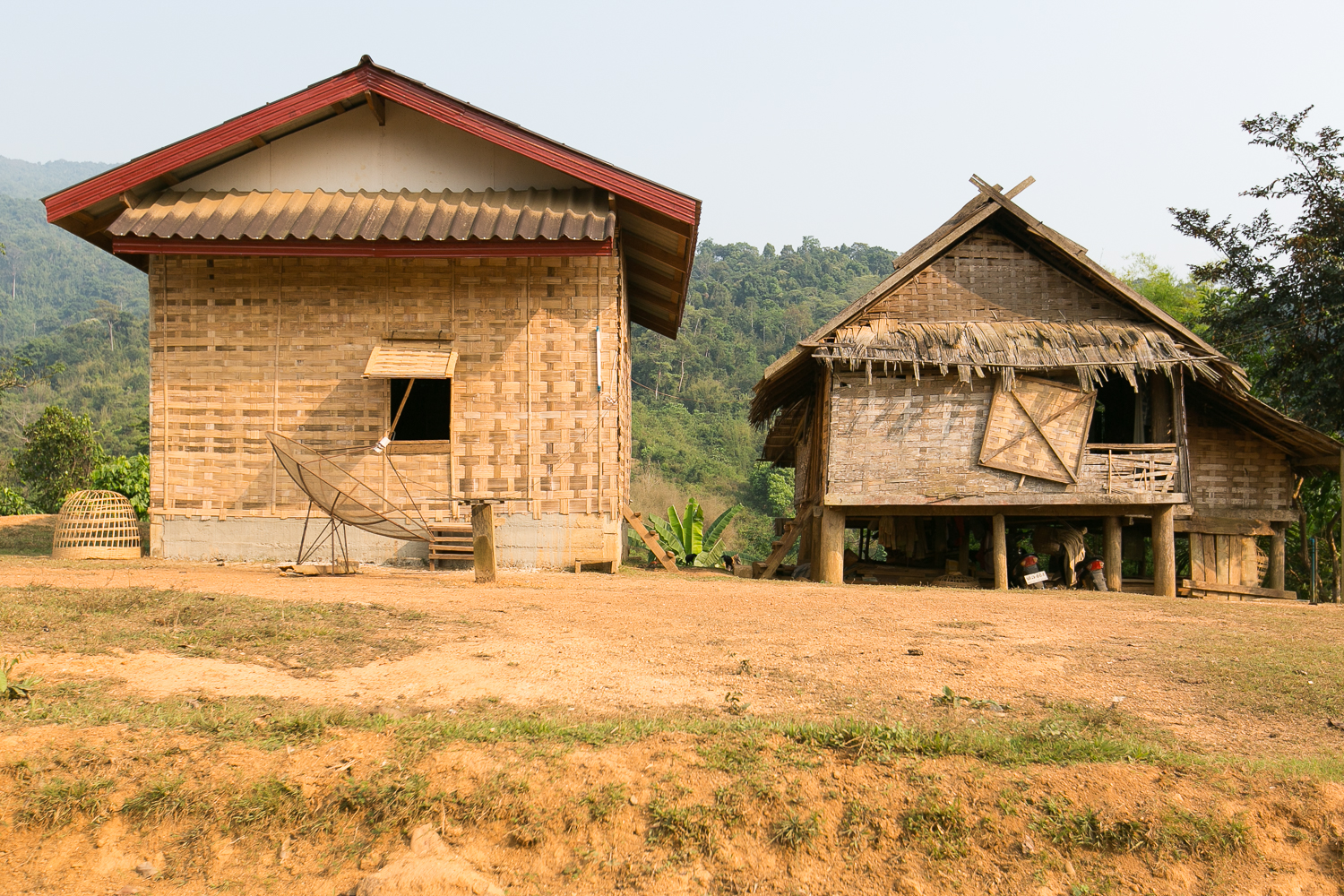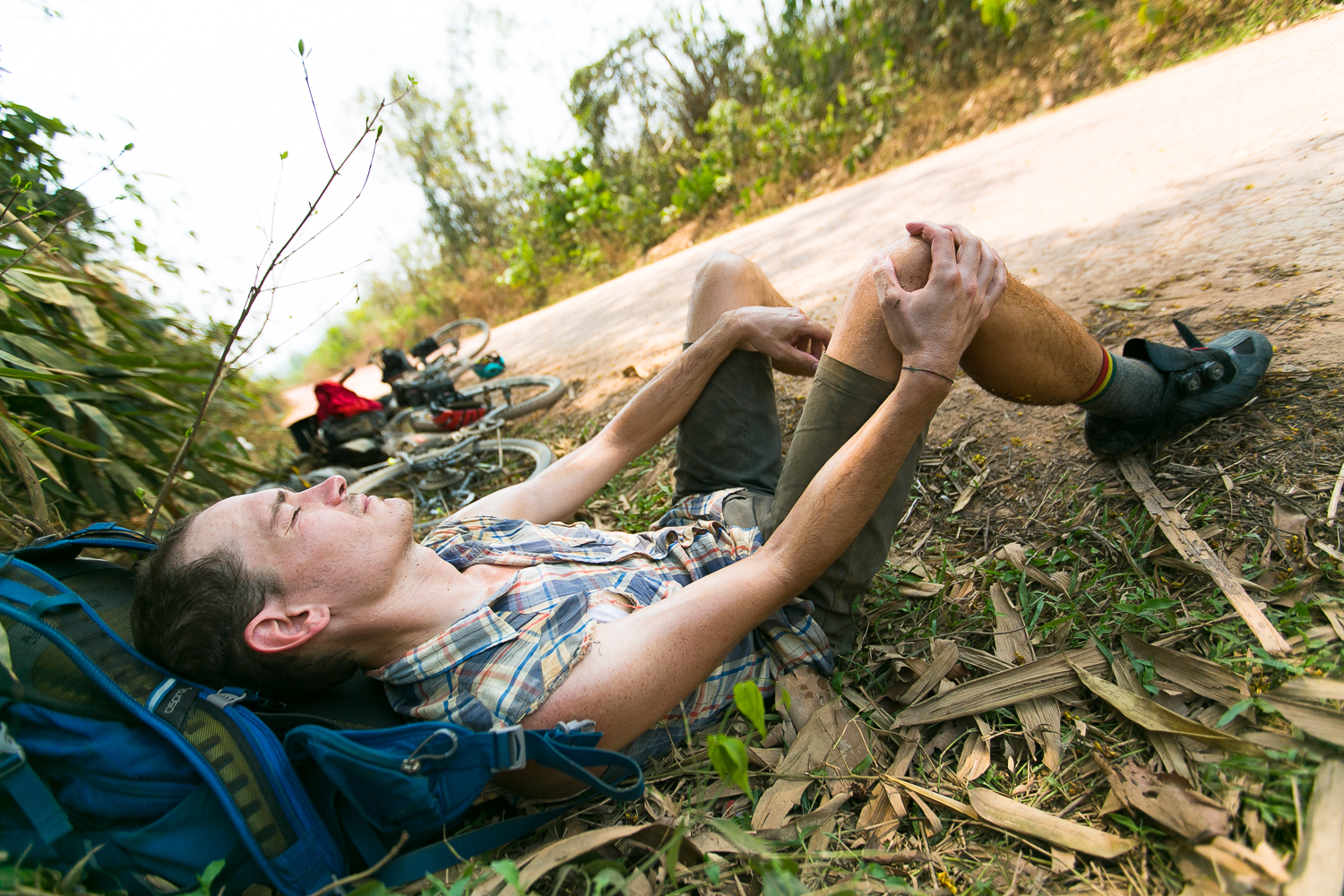 We happened to travel through the country during
Pi Mai Lao
(Lao New Year). The three-day Buddhist festival was celebrated with a MASSIVE water fight—all in the name of "washing away" the sins from last year. We purchased our own weapons in Luang Prabang and battled with the locals, not once able to escape our hotel in daylight hours dry! Luckily, we escaped being hit with the colored water, paint and charcoal that's become popular in recent years.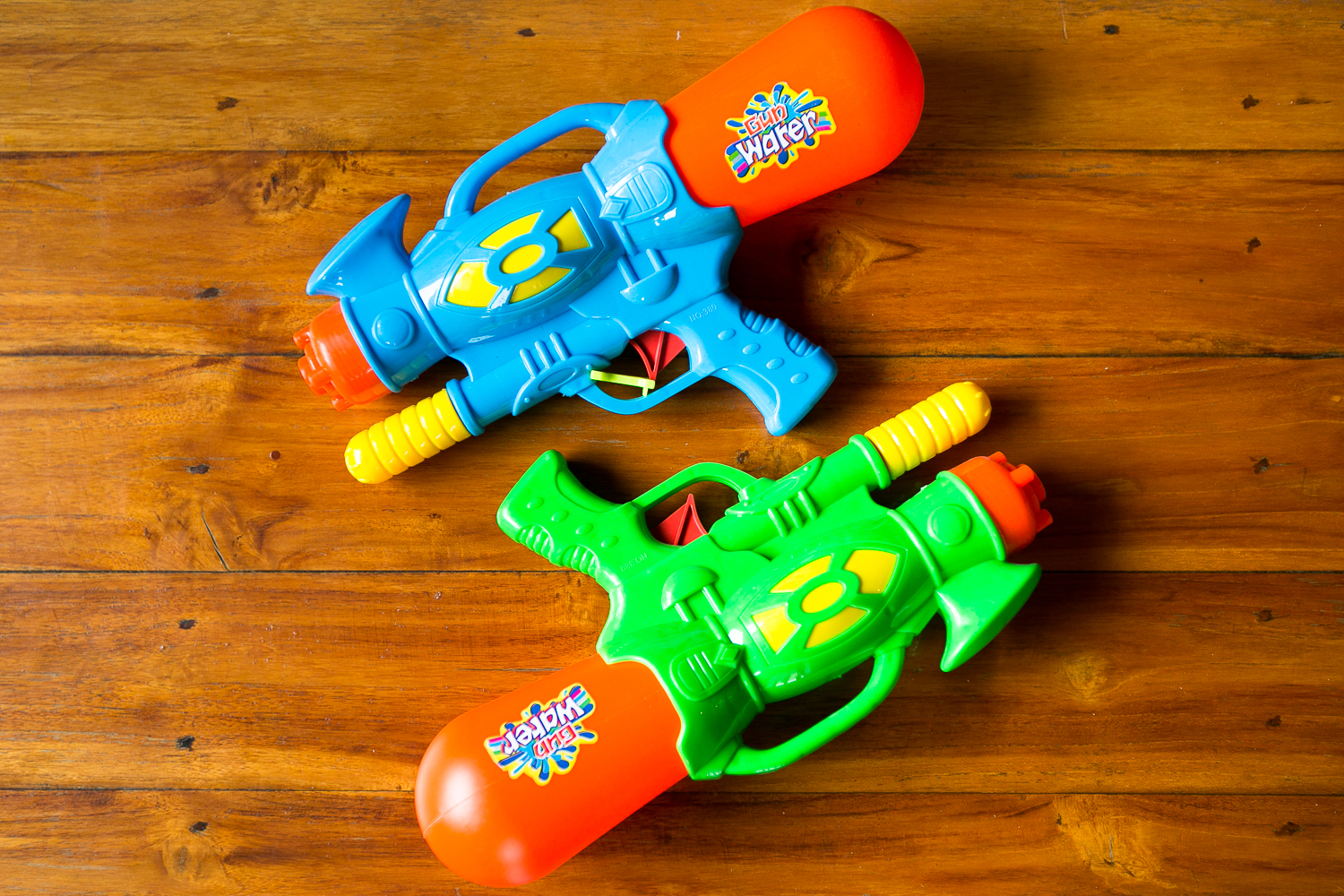 Pi Mai is also a time when houses are cleaned, perfumed water is poured over Buddha images and monks, devotees visit wats, and "good luck" strings are tied to people's wrists during a
baci
ceremony. Sand is brought up from the banks of the river and constructed into stupas, small caged birds are freed to earn merit, and banana leaves are shaped into cones and decorated with flowers to be used as temple offerings. It was a truly beautiful cultural event to observe.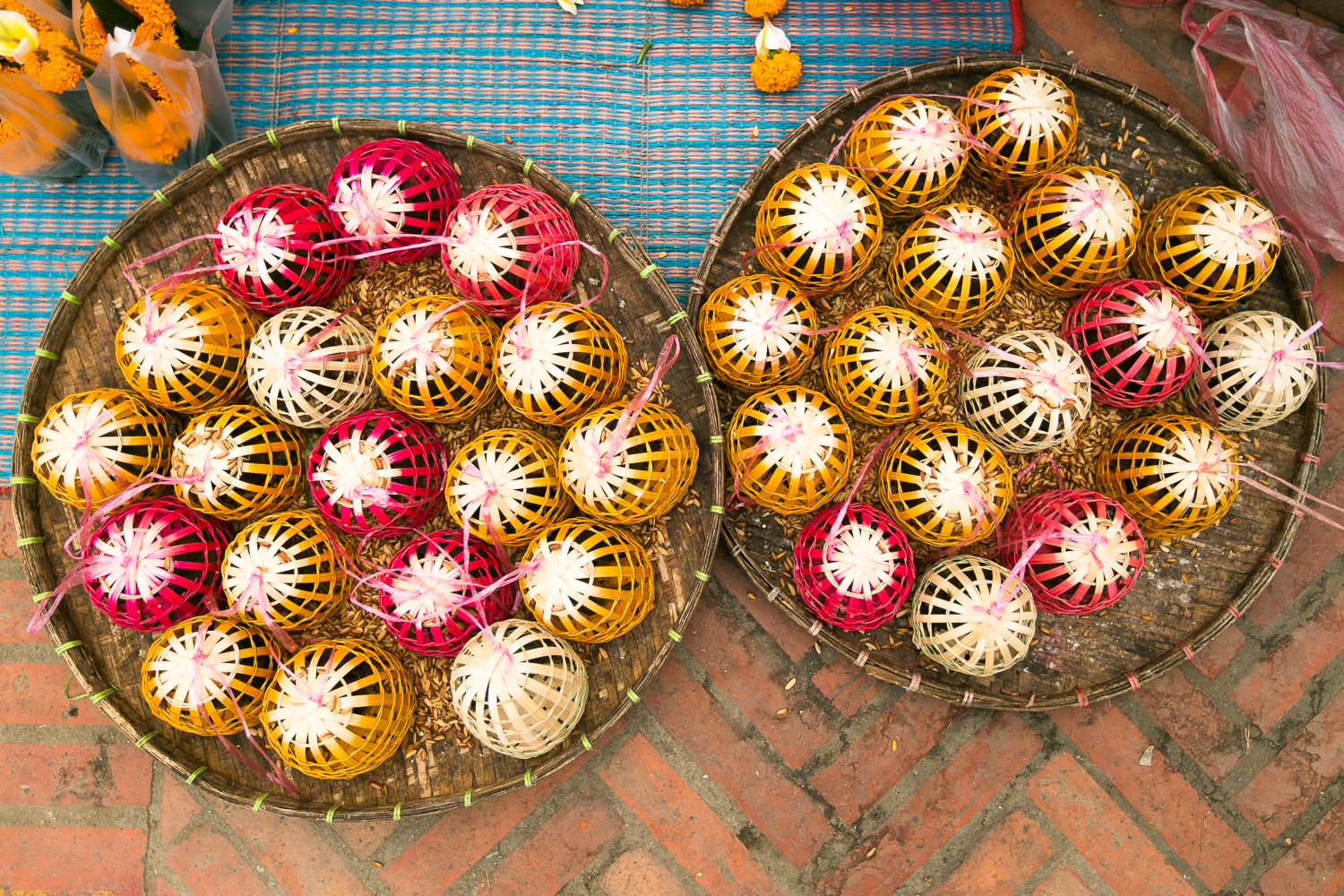 Every day of the year at sunrise in Luang Prabang, hundreds of monks walk single file through the streets to collect their daily meal. We rose before the sun one morning to marvel the peaceful and silent ritual from a distance. Later that day, after spotting a flyer asking English speakers to spare a bit of their time to teach Lao children the language, I had the pleasure of conversing with a young monk about his routine and dreams—while critiquing his pronunciation and defining a few phrases at his request.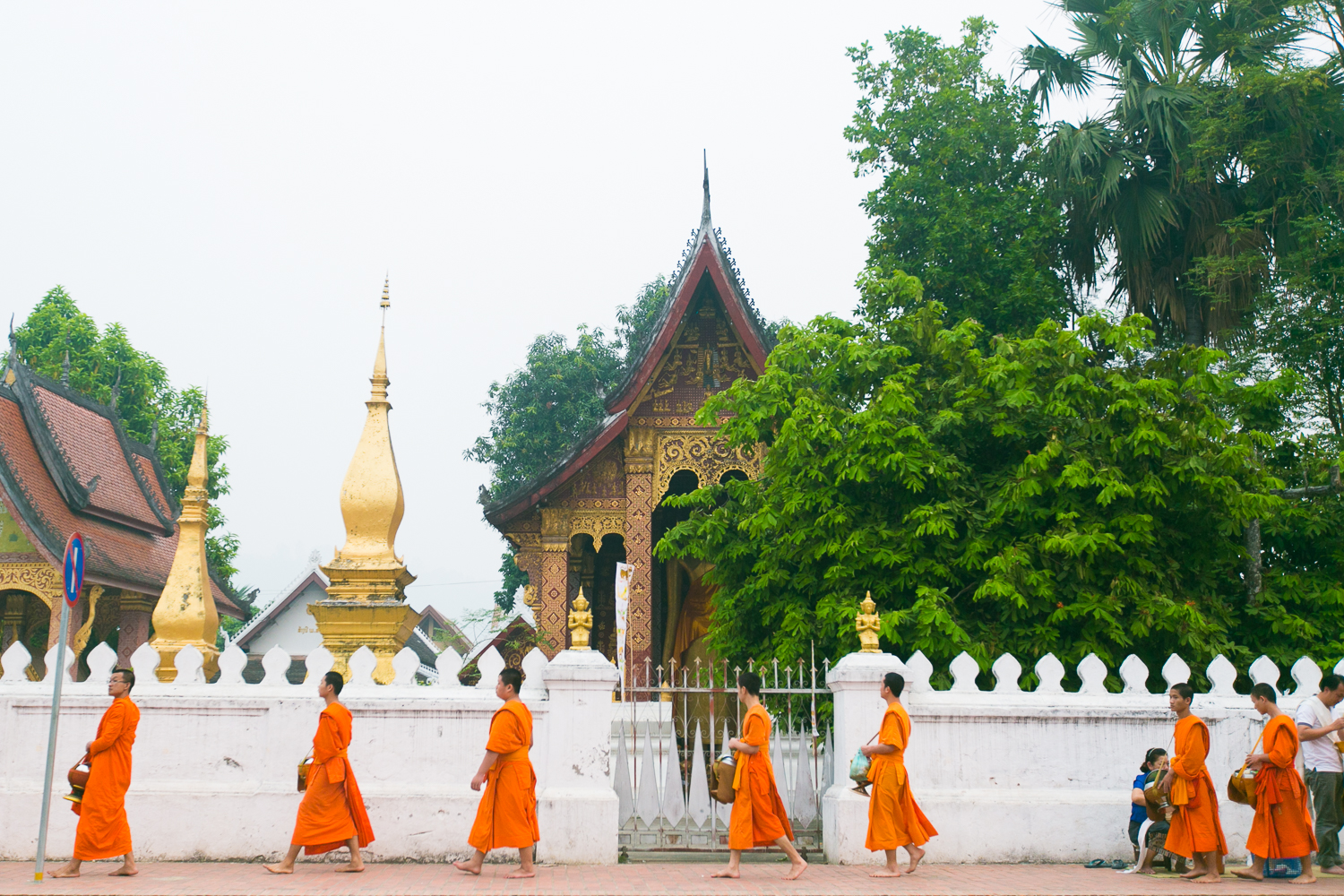 We ended our travels in Laos' capital and largest city, Vientiane—a stark contrast to the rural scenery we'd come to associate with the country. Well, it wasn't all different. The rock-hard mattress, daily power outages, mosquitoes and occasional lizard were still present. Laos was one of a few countries we've visited where we dreaded the all-too-common question: "Where are you from?" Unbeknownst to us, from 1964 to 1973 the United States dropped 250-260 million bombs on the country that's roughly the size of Minnesota. America dropped more bombs on Laos than it did on all of Europe during the entire Second World War, making Laos the most bombed country per capita in the world. The equivalent of a planeload of bombs was dropped every eight minutes, 24 hours a day, every single day, for nine years. (Go on and read that last sentence again.) The most shocking part of our history lesson? Laos was designated a "neutral" country during the Vietnam War. It's called the "Secret War" these days because it was bombed as a result of a secret U.S. CIA operation.
78 million U.S. bombs failed to explode. To this day, 500 people on average are killed accidentally each year, many of them children. Thanks to recent unexploded ordinance awareness efforts, a child will know by the time he is five years old to run away from and report a UXO.