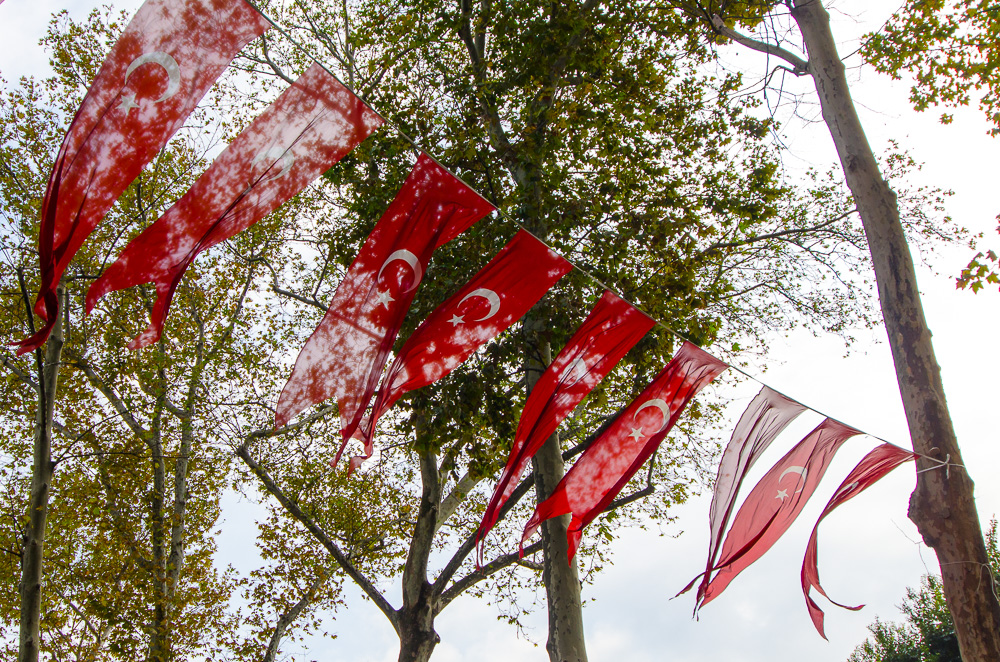 I grab our handlebar bags and water bottles and leave Justin to secure our bikes onto the railing of the ferry in Bandirma. Following the crowd upstairs and inside, I choose a window seat in the front of the boat away from the bustle of passengers. Several long minutes pass and I peek over the back of my seat toward the door. In doing so, I catch a middle-aged man's eye and instinctively smile. He narrows his eyes. Justin appears. "They made me move the bikes," he explains as he sits down. "Great seat, huh?" "I know! I don't know why anybody else didn't…" I begin excitedly and then stop. People are still taking their seats, but this time I notice something else: They glance at their ferry ticket and seat before sitting down. "Oh, we must have assigned seats," I say. And this must be the reason behind that man's look, I think. So, we move—to the center seats in the center row in the center section—and count ourselves lucky this isn't a long boat ride. The Sea of Marmara is rough and we hold our breath watching a chubby baby with curly, black locks take hesitant steps up and down the aisle. His parents sit behind us, but when he inevitably falls, a stranger in the front row scoops him up and holds him close until he quiets. A few minutes before arriving in Istanbul, I walk to the restroom and open the door just as a man pushes it open from the other side. "Whoops, sorry about that!" I say, grinning at the awkward encounter. He looks away. What in the world is wrong with me? I think. Nothing. As it turns out, smiling is reserved for family and friends in Turkish culture—and smiling at strangers is considered inappropriate. Once I realize my Western ways, I avoid smiling at strangers. And I feel like a complete jerk. We reach land and, after harrowing experiences in both Rome and Athens, riding in Istanbul is far easier than we expect. Our first pedal strokes along the water are downright leisurely and we stop to admire the vibrant and bustling fish market.
Further into the city of 14 million, beautiful mosques rise out of the skyline and we decide to ride toward them instead of getting settled into our accommodations.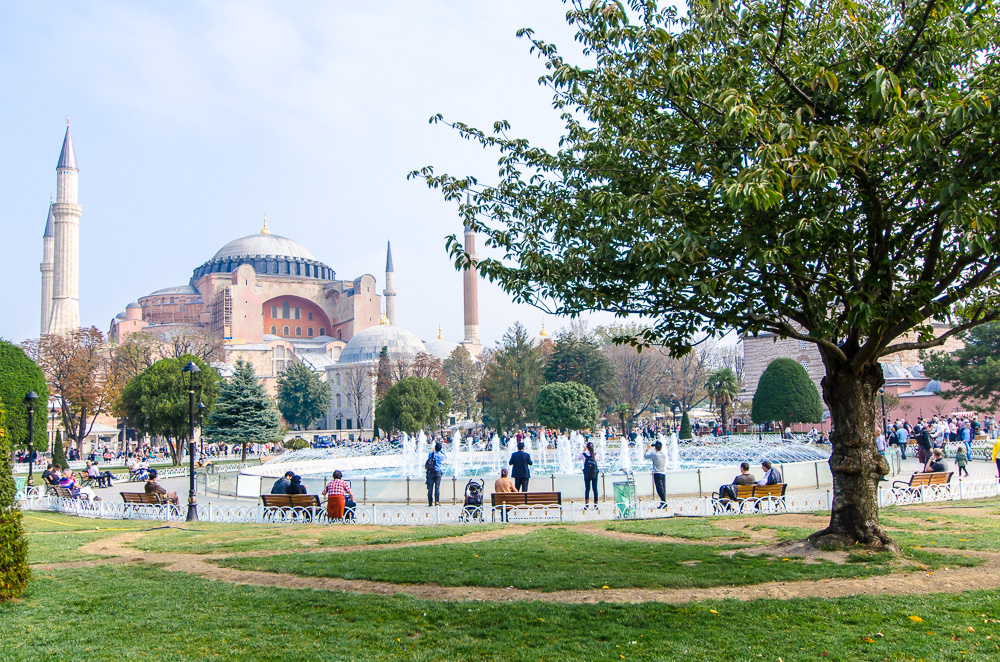 For a week, we meander through bazaars.
("Ispanyolca? Italyan?" … "American." … "I knew it! Americans always look, but never buy.")
("Show this picture to your single friends in America.")
We stuff ourselves with pide, sesame rings and other delicious local cuisine.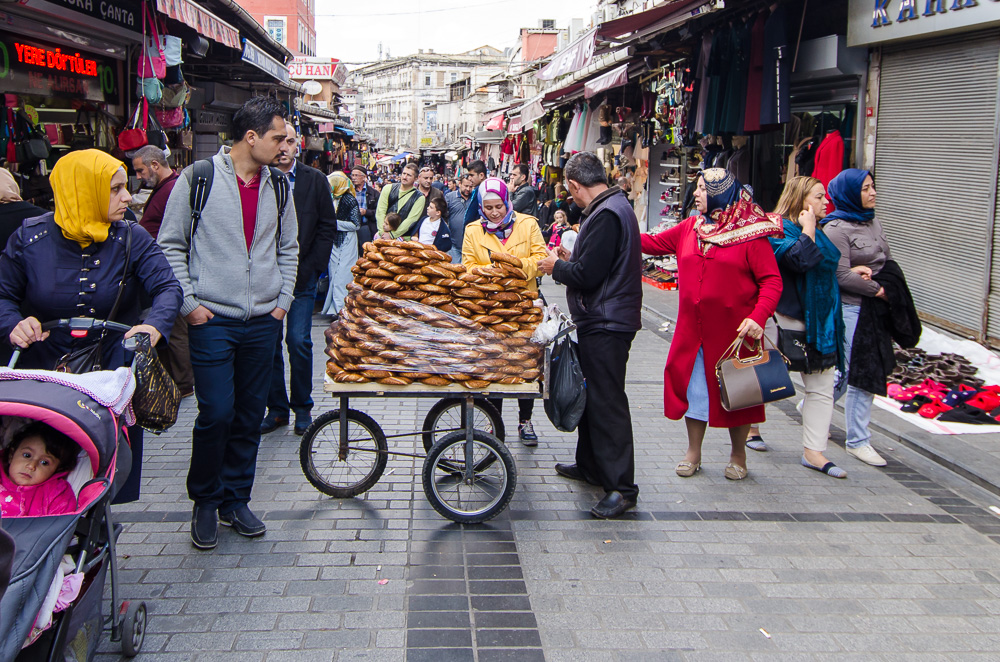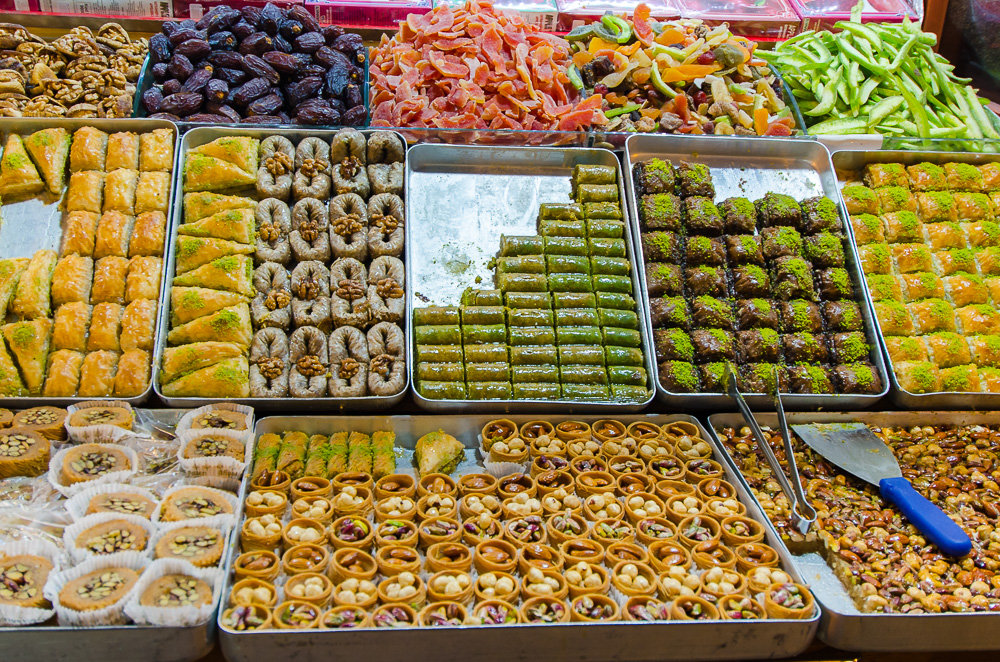 We drink countless miniature cups of çay, an important part of Turkey's culture.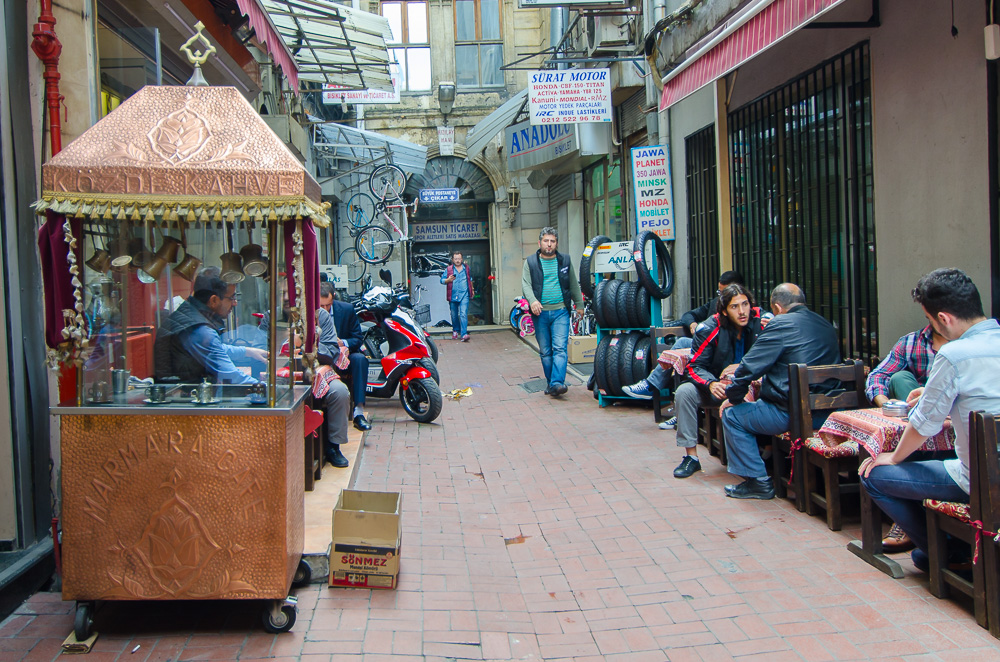 And we get to know--over drinks during the most beautiful urban sunset--our generous host, a BBC journalist covering the war in Syria, who was introduced to us by the couple renting our home.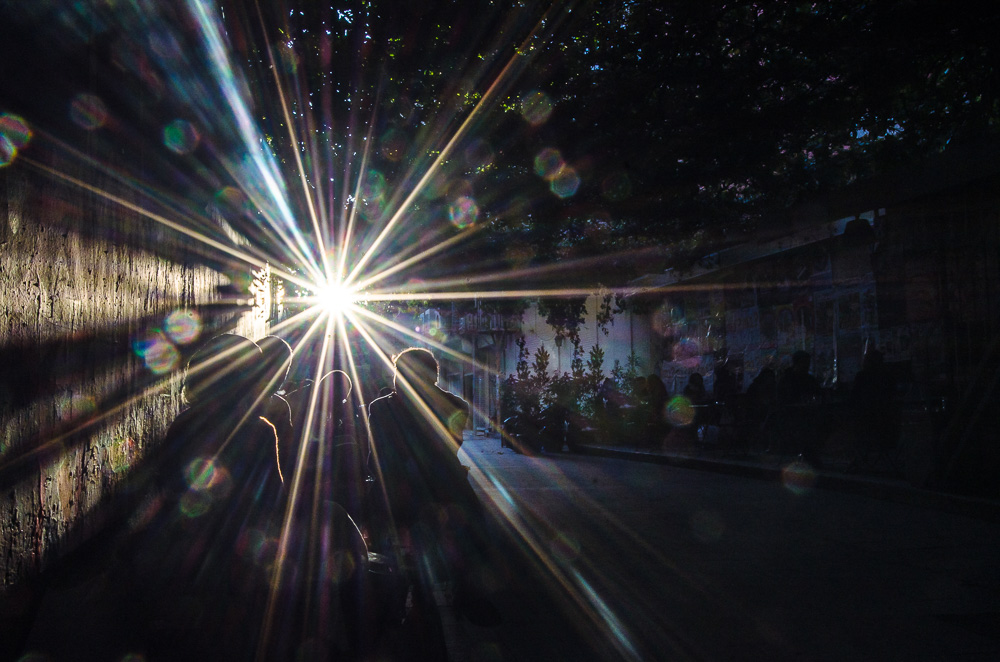 We ferry to the Asian side of Istanbul one day ...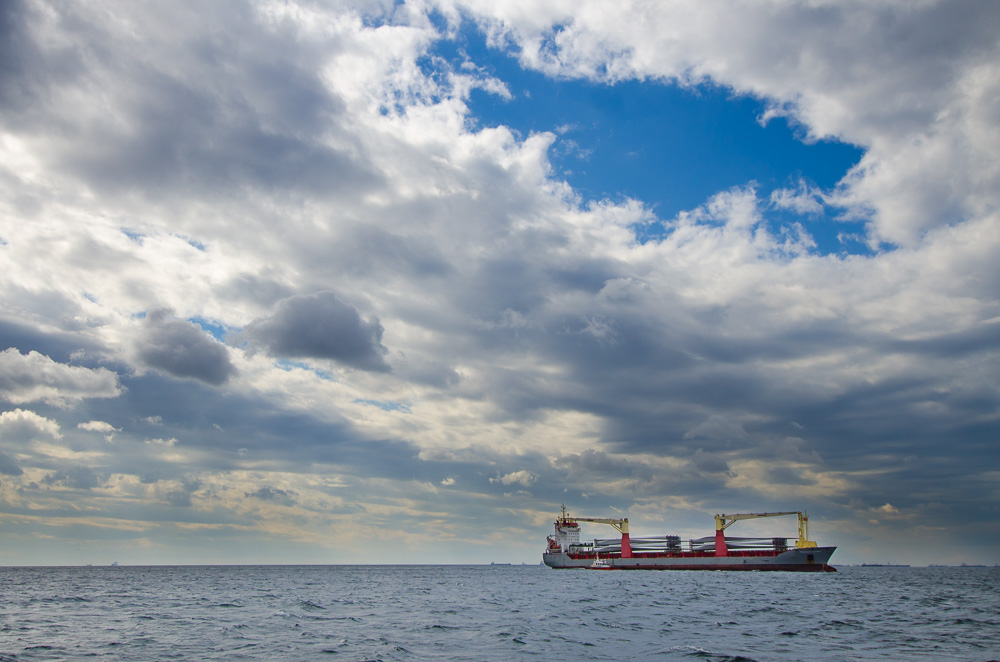 (The enormous blades of a wind turbine are literally "shipped" to their destination.)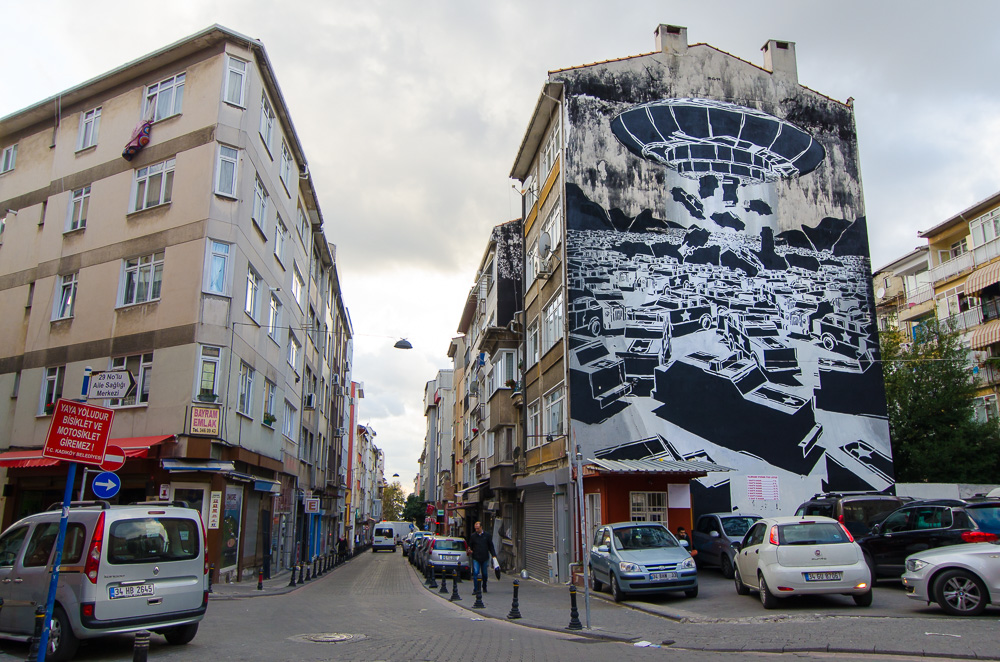 ... where we watch a protest that has 20 police officers in full riot gear at the ready, watch a driver pull a concrete slab from the ground and knock down a cemented barrier to make a turn, and watch kids having the time of their lives "skitching" on the back of a trolley.
On our final day, we stand at the train stop that will take us to the airport hotel. As we wait, we're approached by a friendly group of tourists who want to know what our deal is. Where are we from? Where have we been on our bikes? Where are we going? We answer their questions and they are impressed with our journey, but genuinely upset that we don't mention plans to pedal through their country. When the train comes, they help load our bikes inside. It's a tight fit, and we'll need to stand and hold the bikes in place the entire way. Only, they hold them for us. And when they leave, they gift us local delicacies from their native Iran. After three and a half months and more than 4,000 kilometers, we can attest that the world is full of good people. And sometimes the nicest ones are standing right next to you waiting for the same train.