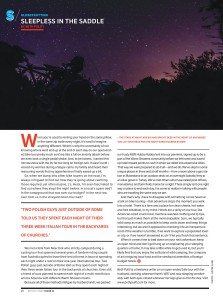 In this issue's Globetrotting column, 
Sleepless In The Saddle:
Hotels are a rarity on our tour, like American-sized snack food, machine-washed clothing and Q-tips, but that just makes them all the more enjoyable. Sure, we typically wild camp as much as possible to keep costs down and keep things interesting, but we aren't opposed to checking into an inexpensive room if the weather is terrible, if we want to explore a populated town or city, or if we haven't showered in, oh I'll let you finish that sentence.
Published in
Bicycle Times magazine
.